There is nothing to display at this time
Partner Library Borrowing
Access through OverDrive to Ottawa Public Library's catalogue is temporarily unavailable. We're working on fixing this as soon as we can.
Publish Date:
Friday, June 4, 2021 - 3:15pm
Thomas & Sasha Weisz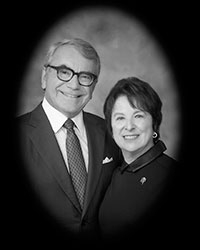 Weisz
Inducted: 2017
Tom and Sasha Weisz first met as students at Westdale Secondary School. They have spent their adult lives working to make the world a better place, through activities here in Hamilton and abroad.  Tom, who started his education at Hess Street School, is a Harvard-trained lawyer and a graduate of McMaster University and Osgoode Hall.  In 1979 he came home to help his father, Arthur, start Effort Trust.  He has served as a volunteer and as a Governor and Director on numerous boards, including McMaster University, St. Joseph's Hospital, The Trust Companies Association, The Hamilton Future Fund (of which he is Chair), The Art Gallery of Hamilton and The Jewish National Fund. In addition to his role as President and CEO of Effort Trust, he is the Founding Partner of the Weisz, Rocchi and Scholes law firm. 
Sasha, who started earning citizenship awards as a student at Adelaide Hoodless Elementary School, is a registered nurse whose community service includes terms as President of the Women's Division of the State of Israel Bonds and Chair of the Women's United Jewish Appeal. She is a long-time volunteer with St. Joseph's Healthcare.
Philanthropy is a priority for the couple, both personally and through the Weisz Family Foundation which supports dozens of organizations, continuing the community-building tradition of Tom's parents, Margaret and Arthur Weisz, both Holocaust survivors.  Tom and Sasha support McMaster University, St. Joseph's Hospital, the United Way, the YMCA, The Art Gallery of Hamilton, Liberty for Youth, The Argyle Regiment, Neighbour to Neighbour and more. Preserving and enhancing Jewish life and culture is important to the couple. Among their honours, Tom is an Honourary Governor of McMaster University, has received the Bloomfield Medal for Meritorious Service to the Jewish Community and Sasha has received the Golda Meir Award for her work with State of Israel Bonds.  They are both past Negev Dinner Honourees.