Central Library - Temporary Dropbox Closure
The drop box at the Jackson Square Lobby entrance is temporarily closed. The York Boulevard and First Floor drop boxes remain open for your library returns. Thank you for your patience.
Publish Date:
Thursday, December 8, 2022 - 3:15pm
Bookmobile - Service Adjustment
Today the bookmobile will be running modified service for our stop at Boys and Girls Club Hamilton-Halton (BGC Hamilton-Halton), and will be at the stop between 2:30-3:30 due to mechanical issues. We apologize for any inconvenience.
Publish Date:
Thursday, December 8, 2022 - 10:30am
Scan to Email Service Currently Unavailable
Scanning to email on public photocopiers is currently unavailable at all Branches. Estimated time of disruption is unknown at this time. Scanning to USB and Print on the Go are still working. Please check back for updates. 
Publish Date:
Thursday, December 1, 2022 - 2:15pm
Dominic Agostino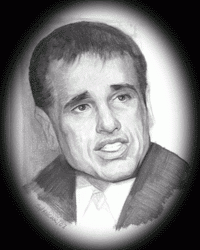 Dominic Agostino (1959–2004)
Inducted: 2008
Dominic Agostino was one of Hamilton's longest serving politicians. He began his public service career as a school board trustee, became a Hamilton city and regional councillor, and was twice elected to the Ontario Legislature. He was a tireless worker for Hamilton and continued to advocate for the city right up until his death in 2004 at the age of forty-four.