There is nothing to display at this time
There is nothing to display at this time
Working With Us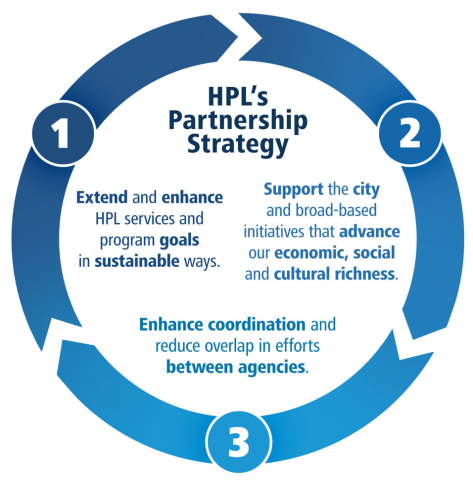 For full about Working With Us, see our Working With Us Policy.
HPL works with organizations that align with our core organizational values (Intellectual Freedom, Inclusiveness, Innovation, Respect and Accountability) and/or share common goals or objectives with HPL. 
There are three (3) core reasons we engage in partnerships:
Extend and enhance HPL services and program goals in sustainable ways.
Support the city and broad-based initiatives that advance our economic, social and cultural richness.
Enhance coordination and reduce overlap in effort between agencies.
Priority is given to organizations and initiatives that meet multiple partnership criteria:
Align with HPL's core organizational values (Intellectual Freedom, Inclusiveness, Innovation, Respect and Accountability) and/or shares common goals or objectives.
Committed to mutual benefit and a reciprocal approach to levels of commitment.
Demonstrated commitment to collaboration and shared planning.
Demonstrated commitment to ongoing evaluation and continuous improvement.
Demonstrated commitment to collective impact and long-term strategies.
In some cases, partners that can provide an activity or service at multiple locations.
---
Priorities of Library Space Use

Library managed or co-managed programs
- Co-managed programs are developed in advance; HPL and the partner organization collaborate on program planning and evaluation.
Free community learning programs from aligned partners
Free room rental allocations to HPL partners and City Councilors
Paid room rentals
HPL restricts illegal activity, discrimination, sales promotion, private social gatherings, religion-based activities, fundraising events and gambling in Library spaces.
Some examples of acceptable and unacceptable use of spaces:
| | |
| --- | --- |
| Yes | No |
| Local Committee Meeting | Private Parties |
| Group Test Proctoring | Event with Sales |
| Partner-led learning program with Library input | Learning Programs without Library input |
| Partner-led speaking program with Library input | Speaker program without Library input |
---
Programs
HPL programs support learning, skill development, and creativity. They are free, inclusive, informational and maintain a respectful tone. Presentations are planned in alignment with system goals and objectives.
Read more about our program objectives. HPL prefers co-planned programs which challenge thinking and cover gaps in community needs. Topics include:
Literacy for all
Life-long learning journeys
Digital inclusion
Workforce development
Community cohesion
Empowers people to improve
Access to arts, music and culture
Civic engagement
Information to community services
Creative aging
Inter-generational experiences
Next Steps
For partnerships and use of library spaces, contact us.
For programming suggestions, complete the Program Application Form.