There is nothing to display at this time
Scheduled Catalogue Maintenance - May 29
The catalogue may be unavailable on Sunday May 29 between 6-10am during the monthly maintenance window. We apologize for the inconvenience and thank you for your patience.
Publish Date:
Thursday, May 26, 2022 - 4:30pm
Rymal Road East Construction near Turner Park Branch
Starting Monday May 9, construction starts on Rymal Road East between Massena Drive and Republic Avenue near the Turner Park Branch. The lights will be deactivated and the turning lanes will be closed.
Please use eastbound lanes only to plan your branch visit.
Thank you for your patience.
Publish Date:
Thursday, May 26, 2022 - 9:30am
Carlisle Branch closing
The Carlisle Branch (1496 Centre Rd.,) closes Saturday May 28 at 5pm. The exterior drop box is available until June 1st. The new branch at 277 Carlisle Rd., is expected to open in mid-June 2022.
Publish Date:
Wednesday, May 25, 2022 - 1:15pm
Book Donations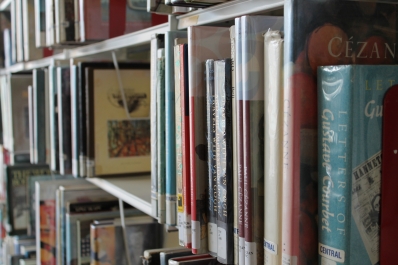 The Hamilton Public Library does not accept material donations. However, there are a number of agencies, thrift stores, hospitals and care facilities that do important work in our community and are always looking for donations. Please consider donating your material to one of the following organizations.  Those marked with an asterisk (*) can arrange for pick-up of materials you wish to donate.

Mission Thrift
601 Upper Gage Ave, Hamilton, ON L8V 4J7
905-383-0004
Canadian Diabetes Association*
905-528-1112
Call to arrange for pickup of materials. There are also donation boxes located throughout Hamilton. Accepting books and DVDs. No magazines or encyclopaedias. 1 box limit.
Neighbour To Neighbour Centre
28 Athens St., Hamilton
905-574-1334
Looking for paperbacks, hardcovers, recent magazines, CD's, DVD's, puzzles. Not accepting encyclopaedias, textbooks, or VHS/cassette tapes.
Ontario Federation for Cerebral Palsy*
905-522-2928
Call to arrange for pickup of materials. Limit of 10 bags/boxes.
St. Joseph's Healthcare Hamilton
Charlton and West 5th Campuses
905-522-1155 ext. 31435
May accept magazine or board game donations. Please call to inquire
St. Joseph's Villa Retirement Community
56 Governors Rd., Dundas
905-627-9011
Looking especially for magazines, large print books, travel books, and illustrated non-fiction.
St. Vincent De Paul Society*
200 Parkdale Ave. N., Hamilton
905-522-7045
Pick-up can be arranged. Accepting all books (especially children's books) as well as DVD's.
Victoria Gardens Long Term Care Centre
176 Victoria Ave. N., Hamilton
905-527-9111
Accepting large print books, audiobooks, and DVDs. No magazines.
The Wellington Long-Term Care & Retirement Community
1430 Upper Wellington St., Hamilton
905-385-2111
Wentworth Heights Retirement Community
1620 Upper Wentworth St., Hamilton
905-575-4735
Looking especially for large print materials.
Note: 
Hamilton Health Sciences can be reached at 905-521-2100.  Facilities falling under this umbrella include Chedoke Hospital, Hamilton General Hospital, Juravinski Hospital, Juravinski Cancer Centre, McMaster Children's Hospital, McMaster University Medical Centre, St Peter's Hospital and St. Peter's Residence. Some locations accept donations. Please call 905-521-2100 and ask for the Volunteer Resources Office to determine what is currently being accepted at a given location.