There is nothing to display at this time
No Network Access at Waterdown Branch
There is currently no internet, computer, phone or printer access at Waterdown Branch. The estimated duration of this disruption is unknown. Thank you for your patience. 
Publish Date:
Wednesday, December 1, 2021 - 11:30am
Makerspace Equipment List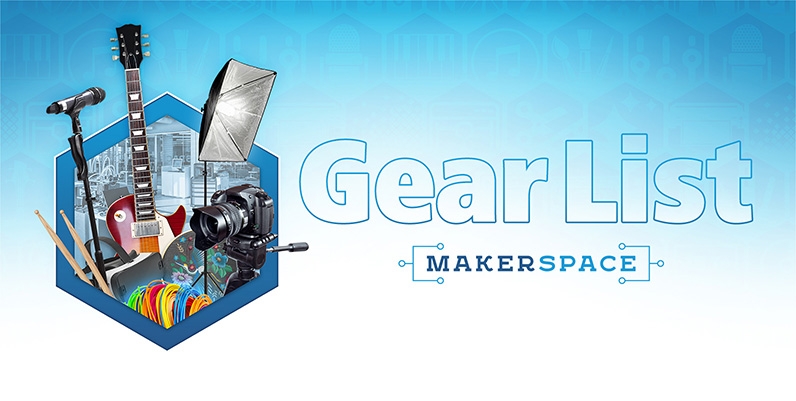 Hamilton Public Library offers a diverse inventory of equipment and spaces for the public to use at little or no cost. Below is the full equipment list across all branches.
Central Library
Printers
Ultimaker 3 Extended 3D Printer 
Ultimaker 2+ 3D Printer (x2)
Canon imagePROGRAF TX-3000 NEW!
Music and Recording
Stienberg UR44 Audio Interface
Audio Technica AT2035 Microphone (x2)
Shure SM-58 Microphone
Epiphone Les Paul Standard Electric Guitar
Vox Valvetronix VT40+ Amplifier
Musicman Electric Bass
Yamaha DTX 502 Electronic Drum Kit
M-Audio Keystation 88 MIDI Keyboard
Vinyl and Embroidery
Cricut Explore Air 2
Roland GS-24 Vinyl Cutter
Roland BN-20 Vinyl Printer/Cutter
Janome Memory Craft 500e Embroidery Machine
Video and Camera
Canon SL1 DSLR Camera
Canon T5 Rebel DSLR Camera
RODE Video Mic GO, On Camera Microphone
GoPro Hero4 Camera
Other Tools
Toshiba DVR 630KC VHS/DVD Player (x2)
Canon 9000F MKII Flatbed Scanner (x3)
Nextech 8014508A External DVD Burner
Ezcap Audio Cassete Tape to MP3 Converter
Mini-DV Camcorder
Intuos Wacom Tablet (x3)
iMac Computer (x8)
Button maker
Turner Park Branch
Printers
Music and Recording
Yamaha DTX 502 Electronic Drum Kit
Vox Valvetronix VT40+ Amplifier
Epiphone Les Paul Standard Electric Guitar
Audio Technica AT2020 USB Microphone
M-Audio Keystation 88 MIDI Keyboard
Other Tools
Toshiba DVR 630KC VHS/DVD Player
Canon 9000F MKII Flatbed Scanner
Canon Rebel T5 DSLR Camera
Nextech 8014508A External DVD Burner
iMac Computer (x2)
Intuos Wacom Tablet
Terryberry Branch
Printers
Music and Recording
Yamaha DTX 502 Electronic Drum Kit
Audio Technica AT2020 USB Microphone
M-Audio Keystation 88 MIDI Keyboard
Other Tools
Toshiba DVR 630KC VHS/DVD Player
Canon 9000F MKII Flatbed Scanner
Canon Rebel T5 DSLR Camera
Samsung External Blu-Ray Burner
Intuos Wacom Tablet
iMac Computer (x2)
Dundas Branch
Music and Recording
Yamaha DTX 502 Electronic Drum Kit
Vox Valvetronix VT40+ Amplifier
Epiphone Les Paul Standard Electric Guitar
Audio Technica AT2020 USB Microphone
M-Audio Keystation 88 MIDI Keyboard
Other Tools
Toshiba DVR 630KC VHS/DVD Player
Canon 9000F MKII Flatbed Scanner
Canon Tebel T5 DSLR Camera
Nextech 8014508A External DVD Burner
iMac Computer (x2)
Intuos Wacom Tablet
Red Hill Branch
Printers
Music and Recording
Yamaha DTX 502 Electronic Drum Kit
Audio Technica AT2020 USB Microphone
M-Audio Keystation 88 MIDI Keyboard
Other Tools
Toshiba DVR 630KC VHS/DVD Player
Canon 9000F MKII Flatbed Scanner
Canon Rebel T5 DSLR Camera
Samsung External Blu-Ray Burner
Intuos Wacom Tablet
iMac Computer (x2)
All other Branches (Except Carlisle, Freelton and Mount Hope Branches)
Other Tools
iMac Computer
Toshiba DVR 630KC VHS/DVD Player
Canon 9000F MKII Flatbed Scanner
Intuos Wacom Tablet
Nextech 8014508A External DVD Burner