There is nothing to display at this time
There is nothing to display at this time
Shirley Elford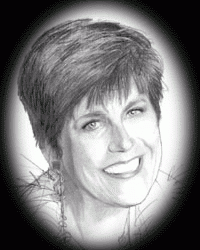 Shirley Elford (1943 - 2011)
Inducted: 2002
Shirley is an artist, businesswoman and community supporter whose unique glass sculptures can be found in private collections worldwide, and in exhibits such as the Bronfman Collection, the SkyDome Founders Club and the Royal Ontario Museum.
Long regarded as one of Hamilton's most celebrated artists, Shirley attended Dundas Valley School of Art before studying glass-making at the Ontario College of Art and Sheridan College.
Known for creating corporate recognition and one-of-a-kind pieces, she has produced unique glassworks for many local events including the Hamilton Citizen of the Year, Red Trillium and Tourism Hamilton awards. She recently received national acclaim for her new design of the Juno - Canada's most prestigious music award - for the Canadian Academy of Recording Arts and Sciences.
Her glassworks have been presented to Hamilton visitors ranging from singer Elton John, actor and advocate Christopher Reeve, to former U.S. President Bill Clinton.
Shirley is known for her generosity in donating both her time and glass sculptures to charitable causes. She is past president of both Theatre Aquarius and the Glass Art Association of Canada and past chair /acquisitions of the Art Gallery of Hamilton. She was honorary co-chair of Strengthening Hamilton's Community Initiative. She is a board member of Hamilton Health Sciences Foundation and Hamilton Community Foundation. She has served as chair of art for the Hamilton Public Library where she supervised two major commissions and the installation of a large sculpture on the library's outdoor plaza. She has also represented Canada on the international Glass Art Society board.