There is nothing to display at this time
There is nothing to display at this time
Sean O'Sullivan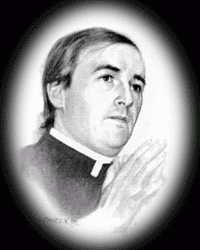 Father Sean O'Sullivan (1952-1989)
Inducted: 1995
In his relatively short life, Sean O'Sullivan earned widespread respect for his success in three diverse fields - politics, religion and publishing.
The defining moment in O'Sullivan's political career came at age 11, when during the 1963 federal campaign, cabinet minister Ellen Fairclough introduced the boy to Prime Minister John Diefenbaker. Sean was so impressed with Diefenbaker, that he determined then that one day, he would enter the House of Commons and serve the party leader.
O'Sullivan received his secondary education at Bishop Ryan High School, where from the beginning, he immersed himself in school politics. He received his university education at Brock University in St. Catharines. During his school years, O'Sullivan rose through the ranks of the Young Progressive Conservatives. By 1970, at age 18, O'Sullivan was head of the Ontario YPC's.
In 1971, O'Sullivan's loyalty to Diefenbaker was rewarded with his appointment as the Chief's executive assistant. Then in 1972, Sean O'Sullivan became the youngest MP ever when he won his party's nomination in Hamilton West and went on to capture the seat in the ensuing federal election.
In 1977, Sean stunned his colleagues with his announcement that he would retire from politics and enter the priesthood. After three years of study including a period in Rome, Sean O'Sullivan was ordained in 1981, and was appointed Director of Vocations for the Archdiocese of Toronto.
In 1986, Sean published an autobiography, Both My Houses: Politics to Priesthood. The same year, he became publisher of the 45,000 circulation Catholic Register.
Sean O'Sullivan learned he was suffering from leukemia in 1983. After treatment, the disease was in remission and he resumed his busy career. In 1987, he was named companion of the Order of Canada. The same year, he presented a report to the Ontario government championing the rights of the elderly and disabled. With the return of his illness, Sean entered Princess Margaret Hospital for a bone marrow transplant. He died there on March 9, 1989.