There is nothing to display at this time
There is nothing to display at this time
Robert Morrow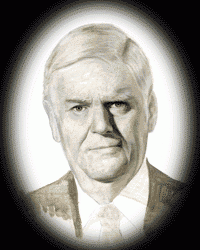 Robert Morrow
Inducted: 2010
Bob Morrow was Hamilton's longest serving Mayor, from 1982 to 2000. Graduating in history, political science and music, he taught at the secondary and college levels and served as alderman, controller and deputy-mayor (1970 to 1980).
He led the development of the west harbour parks and new harbour legislation, and helped build Hamilton Place, the Convention Centre and Copps Coliseum among others. He successfully encouraged provincial and federal projects downtown and elsewhere.
Bob initiated beautification projects, downtown programs, economic diversification, brown fields clean up and race relations work.
He supported the arts and sport and worked to see Hamilton given better recognition as a great Canadian city. A prominent local musician, particularly in the church, he also served with distinction as a Citizenship Judge from 2004 to 2010.
Bob received many awards for his work, including two senior knighthoods from Italy and Poland and the Queen's Jubilee Medal.