There is nothing to display at this time
Partner Library Borrowing
Access through OverDrive to Ottawa Public Library's catalogue is temporarily unavailable. We're working on fixing this as soon as we can.
Publish Date:
Friday, June 4, 2021 - 3:15pm
Reg Wheeler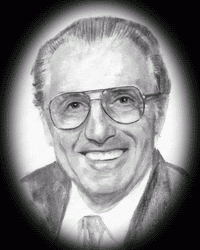 Reg Wheeler (1918 - 2012)
Inducted: 2001
Reg Wheeler might well be called "Mr. Hamilton" given his participation in such well-known Hamilton pursuits such as playing football and making steel. But he would also earn the title for his passionate advocacy for the city itself, and most particularly, for the residents of its north end.
Reg was born in Hamilton in 1918 and attended Ryerson Public and Westdale Secondary schools. His athletic prowess became evident in high school where he excelled at both rowing and football. But football became his main focus when local sports entrepreneur Sam Manson urged him to join the Flying Wildcat Football Club (a forerunner to the Tiger Cats), where he played defensive tackle. Reg claims his "fists of steel" prevented opponents from fouling him more than once. In 1938 Reg joined Dofasco where he worked as a melter on furnaces and on the open hearth.
Reg caught the political bug in the 1950s when he ran unsuccessfully for Member of Parliament for Wentworth County. In 1960 he was elected as the city's east-end alderman – a ward he held until 1985 and again from 1988 to 1991. He was a member of the first regional council and, as chair of the Engineering Committee, pushed for the construction of the Burlington Street overpass, new bridges at the west entrance of the city and other important structural projects.  A proud resident of the Beach Strip since 1941, Reg made it his mission to speak up for Hamilton's harbourfront residents on issues that affected them.
Reg maintains an active presence in community affairs, including advisory committees for St. Joseph's Health Care, Third Sector Recycling, Hamilton East Kiwanis Club and the Probus Club, and is chair of the Induction Dinner Committee for the Football Hall of Fame. Reg and his wife Grace have three children and 10 grandchildren.