There is nothing to display at this time
There is nothing to display at this time
Raymond Harris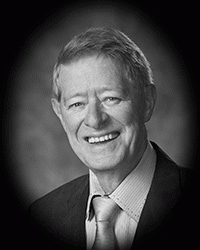 The Honourable C. Raymond Harris
Inducted: 2013
Ray Harris' contributions to Hamilton span five decades as a lawyer, advocate, activist, civic leader and jurist. Whether giving someone a voice in the courts, advocating for citizens seeking a better city, supporting the arts or dispensing commonsense justice from the Superior Court bench, Ray is a driving force in Hamilton.
As a young lawyer in the 1970s, his pioneering pro bono work helping displaced property owners along York Boulevard led to what is today's Ontario Legal Aid. As chair of the Hamilton Harbour Commission, Ray resolved a 50-year dispute over ownership of the harbour lands, breaking a stalemate that had long frustrated many. During his chairmanship of the Hamilton Downtown BIA, Ray worked tirelessly to enhance the core. From his law office on the top floor of the Royal Connaught, he was a leader in efforts to restore the Gore Park Fountain, bringing it back to life.
This remarkable career is rounded out by Ray's support of and participation in the performing arts. He serves as an actor, producer, director, stage-hand - whatever job is required to mount a production. His involvement in the Hamilton Lawyer's Club and its theatrical productions were popularly received and their acclaimed performances raised funds to benefit children in our city.
Lawyer, advocate, champion, actor, judge and friend, Ray Harris' contributions to Hamilton  are continuing reminders of why he is a Hamiltonian of distinction.