There is nothing to display at this time
There is nothing to display at this time
Kate and Carl Turkstra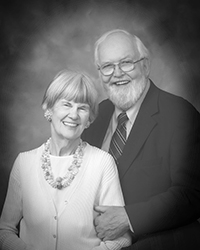 Kate and Carl Turkstra
Inducted: 2016
Leaders can sometimes make their biggest impact working behind the scenes, contributing in quiet, yet meaningful ways. This is true of Kate and CarlTurkstra, who with neither fanfare nor headlines, support Hamilton's arts and education organizations, with impact and significance.
A native of Hamilton, Carl is past president of Turkstra Lumber the region's largest supplier to contractors. Employing more than 250 people, it has served Hamilton for over 60 years.  A professional engineer earning awards from the American Society of Civil Engineers, Carl was a distinguished academic at the University of London in the U.K. and New York University, among others.
Together with Kate, they founded the incite Foundation for the Arts to invest in visual and performing arts organizations in Greater Hamilton.  The Turkstras fervently believe in the power of the arts to enrich communities, attract visitors and initiate strong bonds of friendship and civic-mindedness. The foundation supports dozens of groups including the Art Gallery of Hamilton, the Hamilton Philharmonic Orchestra and Theatre Aquarius. They invest in programs such as An Instrument for Every Child, the All Star Jazz Band and others supporting indigenous people, children and artists to ensure arts and music are embedded in our community. In every corner of the city, their contributions are making a real difference in the lives of Hamiltonians.
For their contributions to a stronger Hamilton, for their invaluable investments in community arts and education, and for their quiet and humble approach to leadership and philanthropy, Kate and Carl Turkstra enter the Hamilton Gallery as clear examples of Hamiltonians who lead lives with distinction.