There is nothing to display at this time
There is nothing to display at this time
Joan O'Sullivan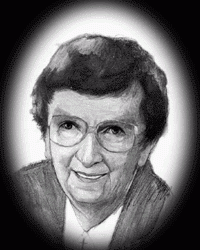 Sister Joan O'Sullivan C.S.J. (1922-2013)
Inducted: 1998
Born in Hamilton, Joan O'Sullivan graduated from Cathedral Girls High School and, subsequently, from the St. Joseph's Hospital School of Nursing. She is also a graduate of the University of Western Ontario, holding a Bachelor of Science in Nursing degree and a Master of Science in Nursing Administration.
After working as a private duty, general staff, and industrial nurse, she entered the Congregation of the Sisters of St. Joseph of Hamilton in 1946.
Prior to her appointment as Executive Director of Hamilton's St. Joseph's Hospital in 1979, Sister Joan held teaching and executive positions in Kitchener, Hamilton, and Brantford hospitals.
Milestone achievements during her tenure as Executive Director of St. Joseph's Hospital include: construction of a new, 20-bed Regional Dialysis Centre; planning and construction start-up of a $57 million hospital redevelopment; and, the planning and construction start-up of the St. Joseph's Community Health Centre.
During her 10-year tenure, Sister Joan's seemingly boundless energy and commitment to people were key factors in strengthening and maintaining the reputation for caring and excellence the Hospital enjoys today.
Among the organizations served by Sister Joan throughout her career are: the Ontario Council of Administrators of Teaching Hospitals, the Joint McMaster/Mohawk Teaching Hospitals Liaison Committee, the Good Shepherd Centre and the St. Elizabeth Visiting Nurses' Association, to cite only a very few.
Sister Joan was honoured locally as Irish Canadian Citizen of the Year in 1987, and Woman of the Year in Health Care in 1990.
Today, she is Assistant General Superior of the Sisters of St. Joseph of Hamilton, and is a member of the Board of Directors of the System, a health care organization, actively involved in outreach programs in Dominica, Jamaica, Haiti, Romania, Russia, and Uganda.
Sister Joan O'Sullivan's lifelong team and individual efforts have helped accomplish much for the people of Hamilton-Wentworth and surrounding areas. The influence of her good work and caring, however, has reached far beyond our region.