Acorn TV — Find it on Hoopla
Publish Date:
Friday, April 30, 2021 - 11:00am
Frank DeNardis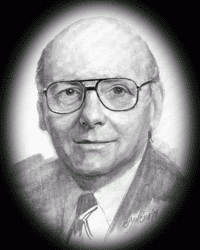 Frank DeNardis
Inducted: 2001
Born in this city in 1932, Frank DeNardis says he's "a Hamilton boy through and through."
Frank was one of television's pioneers, joining CHCH TV even before the station went on the air in 1954 and helping to nurture its growth over the next 35 years. From cameraman to technical director, station manager and ultimately vice president and general manager, Frank knew every aspect of the business.
After graduating from Cathedral High School, Frank attended the School of Radio and Television in New York City. Returning home to Hamilton he worked on the launch of CHCH – and stayed to help build it from the ground up.
Frank promoted local programming and the development of local talent. He helped establish Mohawk College's television arts program, offering students hands-on learning at the station. He believed CHCH should have a high community profile and led the way by participating, on the station's behalf, in numerous community efforts. His past board involvement includes St. Joseph's Hospital, The Art Gallery of Hamilton, Mohawk College, St. Joseph's Hospital Foundation and Junior Achievement to select just a few.
He received an Award of Merit from Mohawk College in recognition of Distinguished Service, was named Hamilton's Italian-Canadian Citizen of the Year by the Sons of Italy Housing and Charitable Corporation, and received a Lifetime Achievement Award by the Canadian Television Program Executives.
He currently operates a consulting group and volunteers on the boards of SEN Community Health Care (St. Elizabeth Nurses) and the Sons of Italy Housing Corporation. He is a member of McMaster University's Business Advisory Council for the Michael D. DeGroote School of Business and is the corporate liaison officer for Festitalia.
Frank has been married for 44 years to Diane and they have three children: Laura, Christopher and Patrick.