There is nothing to display at this time
Partner Library Borrowing
Access through OverDrive to Ottawa Public Library's catalogue is temporarily unavailable. We're working on fixing this as soon as we can.
Publish Date:
Friday, June 4, 2021 - 3:15pm
Denis Whitaker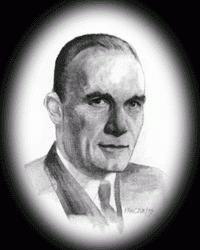 Brig. Gen. Denis Whitaker (1915-2001)
Inducted: 1995
Born in Calgary and raised in Toronto, Denis Whitaker was educated at the University of Toronto School and later at the Royal Military College in Kingston. He graduated in 1937 and accepted a commission with the Royal Hamilton Light Infantry. During his early years in Hamilton, Whitaker was assistant to the superintendent of Stanley Works, and at the same time quarterbacked the Hamilton Tigers football team.
With the outbreak of war in 1939, Denis Whitaker went overseas with the R.H.L.I. as a lieutenant. He saw action in the disastrous raid at Dieppe where he earned the Distinguished Service Order for courage. In 1944, he was promoted to lieutenant colonel and commander of his regiment. At the end of the war, Denis Whitaker was promoted to the rank of Brigadier-General. Gen. Whitaker left the army in 1951, but returned in 1973 as honourary colonel of the R.H.L.I.
Denis Whitaker resumed his business career with his appointment as commercial manager of radio station CHML - a post he held for 15 years. In 1962 he was named vice president of O'Keefe Brewing Co. and by the end of that same year, rose to the presidency of O'Keefe's.
Throughout his business career, Mr. Whitaker has been active in countless community, social charitable and philanthropic causes.
Working with his wife Shelagh, Mr. Whitaker has authored three books on Canadian military history. His second book, Rhineland, was translated into German and was published in Canada, the United States and Britain - a first for a Canadian history book.
Mr. Whitaker has received many honours for his life of service. In 1989, he was named member of the Order of Canada. The following year, he was inducted into the Canadian Sports Hall of Fame. In April 1995, with the approach of the 50th anniversary of VE Day, the French government awarded Gen. Whitaker the prestigious Order of the Legion of Honour for his role in the liberation of France.