There is nothing to display at this time
Central Library Jackson Square Entrance and Book Drop
Central Library's Jackson Square door and drop box reopen February 1.
Publish Date:
Wednesday, January 26, 2022 - 3:15pm
Writer-in-Residence: Pasha Malla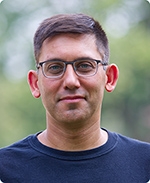 As the 2021-22 Mabel Pugh Taylor Writer-in-Residence, Pasha Malla is no stranger to mentoring aspiring writers. He has taught creative writing and supervised graduate students at the University of Toronto, the University of Guelph, Brock University and York University, and he has mentored writers through the Banff Centre for the Arts and Creativity, the Toronto Public Library, Diaspora Dialogues and the Writers' Trust of Canada. He is also currently an instructor at McMaster University.  
Pasha writes novels, poetry, scripts and articles for several publications. He is author of several books: Kill the Mall, (2020), Fugue States (2018), Erratic Fire, Erratic Passion: The Poetry of Sportstalk (2015), People Park (2012), All Our Grandfathers are Ghosts (2008) and The Withdrawal Method (2008). You can borrow Pasha's books through HPL's catalogue and OverDrive.
His debut book, The Withdrawal Method, a collection of short stories, won the Danuta Gleed Literary Award and Trillium Book Prize. One of the short stories in this collection, Filmsong, won the Arthur Ellis Award. Pasha has also won several National Magazine awards.  
He lives in the east end of Hamilton. 
During his time as Writer-in-Residence, Pasha will meet with aspiring writers from fiction to children's to poetry and screenplay. He also plans to offer workshops focused on the business of writing -- including how to write a grant, get an agent and pitch stories to magazines and publishers – as well as the craft, from character development to dialogue. 
Please sign up for a date and time for a 30-minute meeting to discuss your work. Pasha will then contact you to solicit your writing sample (.doc files, double-spaced, pages numbered, with your contact information included on the first page).
Please be prepared to send your work at least two weeks prior to your appointment. 
Events
View a list of events organized and hosted by our Writer-in-Residence.
The Mabel Pugh Writer-in-Residence program is a partnership with McMaster University's Department of English and Cultural Studies, McMaster University Library and Hamilton Public Library.