Central Library - Temporary Dropbox Closure
The drop box at the Jackson Square Lobby entrance is temporarily closed. The York Boulevard and First Floor drop boxes remain open for your library returns. Thank you for your patience.
Publish Date:
Thursday, December 8, 2022 - 3:15pm
Bookmobile - Service Adjustment
Today the bookmobile will be running modified service for our stop at Boys and Girls Club Hamilton-Halton (BGC Hamilton-Halton), and will be at the stop between 2:30-3:30 due to mechanical issues. We apologize for any inconvenience.
Publish Date:
Thursday, December 8, 2022 - 10:30am
Scan to Email Service Currently Unavailable
Scanning to email on public photocopiers is currently unavailable at all Branches. Estimated time of disruption is unknown at this time. Scanning to USB and Print on the Go are still working. Please check back for updates. 
Publish Date:
Thursday, December 1, 2022 - 2:15pm
McCulloch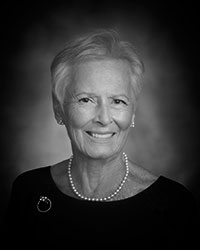 Judith McCulloch
Inducted: 2019
Judith McCulloch is a highly regarded community leader in Hamilton and across Canada whose work professionally and as a volunteer has improved the quality of life in our city.
McCulloch is perhaps best known as the first professional director of the Hamilton Community Foundation, a role in which she served from 1982 to 1995. At the time she took on the role, community foundations were still emerging on Canada's philanthropic landscape. McCulloch soon established herself as a national leader in her field, providing guidance and mentorship to fledgling associations in Toronto, London, Kitchener and Ottawa, and ultimately helping with the creation of the Community Foundations of Canada, where she was a founding director.
Today, some 200 community foundations serve 90 per cent of Canadians. McCulloch's integrity and passion set a tone that continues to drive the Hamilton Community Foundation's success to this day.
McCulloch has also made time to serve as a volunteer on nearly 20 community non-profit boards and major projects, spanning a huge range of sectors, including the arts, social services, health care, the environment, recreation, women's leadership and neighbourhood engagement.
Today, her service continues as a founding director of Hamilton Third Age Learning, a non-profit organization that promotes lifelong learning for retired and semi-retired people. McCulloch is recognized as a leader with a strong vision who unites and motivates people in the interest of the city she has served for more than four decades.