Acorn TV — Find it on Hoopla
Publish Date:
Friday, April 30, 2021 - 11:00am
Carruth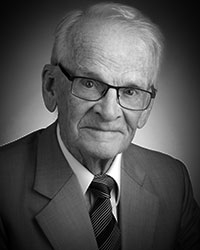 Gordon Carruth
Inducted: 2019
Gord Carruth has distinguished himself on many stages – both literally and figuratively.
The retired educator served for more than three decades at secondary schools throughout the city, including turns as a teacher at Delta (from which he graduated), vice-principal at Westmount, Westdale, Delta and Hill Park, and as principal at Sir Allan MacNab. A strong proponent of extra-curricular activities, Carruth coached football and directed high school theatrical productions, some of which he wrote himself. In close parallel, he played leadership roles at all levels of theatre, as a writer, director, composer and administrator. He has written nine major Canadian musicals that have reached audiences across Canada and internationally.
His advocacy for young people's engagement in theatre included his founding of the Popcorn Players and prompted then-Hamilton mayor Victor Copps to appoint him as a founding member of the Hamilton Place board of directors, where he soon became chair.
Carruth's love of football and drama came together and earned him public recognition as the co-author of I Am Not a Legend, the show about legendary Green Bay Packers coach Vince Lombardi, which was performed in numerous theatres and was ultimately produced on radio by the CBC and for television by ESPN.
Carruth's body of writing earned him an ACTRA award of excellence in 1985. He is the founder of Maple Leaf Theatre Productions, a not-for-profit organization dedicated to growing Canadian theatre by producing, publishing and making Canadian dramatic and musical productions available to professional and amateur theatre groups.