There is nothing to display at this time
Greensville Branch - Public Computers Unavailable
There is currently no public computer access at the Greensville Branch. The estimated duration of the disruption is unknown. We're working to fix it and will post updates on hpl.ca. Thank you for your patience.
Publish Date:
Saturday, November 27, 2021 - 12:45pm
Geoffrey Baker Collection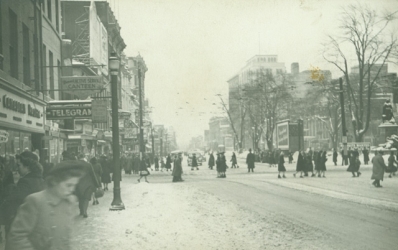 Geoffrey Baker was an airplane mechanic with the Royal Air Force who was stationed at Mount Hope Airport during World War II. This collection is a good overview of the activities of Baker during the war including shots of the airport as well as the Hamilton area. He took many pictures of Mount Hope, Hamilton, local rail traffic (Baker was an avid train spotter) and other locations he visited.
His collection consists of nearly 300 photographs, as well as a few booklets from Mount Hope and Greenfield Pioneer Village.
Details of the Contents:
Introduction
Correspondence - Folder 1
Photographs
Mount Hope - Folder 2
Hamilton - Folder 3
Toronto - Folder 4
Niagara Falls - Folder 5
Buffalo, N.Y. - Folder 6
Chautauqua, N.Y. - Folder 7
Detroit, Mich. - Folder 8
Greenfield Village, Mich. - Folder 9
New York, N.Y. - Folder 10
People - Folder 11
Trains - Folder 12
Publications - Folder 13