Central Library - Temporary Dropbox Closure
The drop box at the Jackson Square Lobby entrance is temporarily closed. The York Boulevard and First Floor drop boxes remain open for your library returns. Thank you for your patience.
Publish Date:
Thursday, December 8, 2022 - 3:15pm
Bookmobile - Service Adjustment
Today the bookmobile will be running modified service for our stop at Boys and Girls Club Hamilton-Halton (BGC Hamilton-Halton), and will be at the stop between 2:30-3:30 due to mechanical issues. We apologize for any inconvenience.
Publish Date:
Thursday, December 8, 2022 - 10:30am
Scan to Email Service Currently Unavailable
Scanning to email on public photocopiers is currently unavailable at all Branches. Estimated time of disruption is unknown at this time. Scanning to USB and Print on the Go are still working. Please check back for updates. 
Publish Date:
Thursday, December 1, 2022 - 2:15pm
Gallery York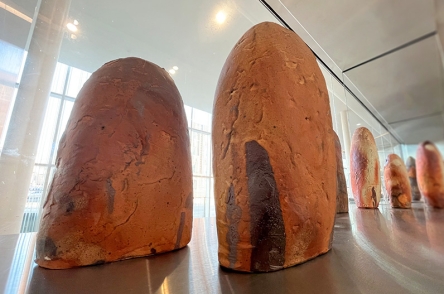 Bone Camp Shadows by Emma Smith
Wood fired stoneware installation 2022
October - December 2022
This work was made from wild harvested clay and slips, and was fired with wood for four days and three nights. During this time the kiln is stoked with wood every 5-10 minutes, requiring a community of artists to work together to see the firing through the wee hours of the night. The colours and textures are all the direct result of this atmospheric process – no two pieces can ever be the same. When firing with wood, great care is taken during the loading process to manipulate the fire within the large kiln.
This strategic placing allows for flame marks on the surface of the vessels, and determines where fly ash will land and melt. Wood variety, the rhythm of stoking, and kiln design are all considerations that affect the final work. Upon peak temperature, many of these pieces were buried in charcoal for fuming effects, and then the kiln was sealed off from external air. Additional wood was then added as the kiln cooled (a process known as 'reduction cooling') in order to keep the chamber in a reduced-oxygen atmosphere.
Emma Smith is a woodfirer, ceramic artist, writer, and all around multi-hyphenate from Jerseyville ON. Growing up in the shadow of the Niagara escarpment, she aims to celebrate the significance of place, environment and land, and her relationship with it, through her life philosophy and art practice. Exploring this theme largely through woodfired ceramics, her work is made to be experienced quietly, encouraging moments of contemplation and reflection.
'Bone Camp Shadows' is a sculptural offering, made during an artist residency in the mountains of Western NC.
emmasmithceramics.com / @esceramics